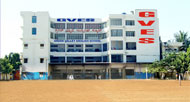 'Give me six hours to chop down a tree; I'll spend the first four in sharpening the axe'

The school caters to the educational needs of children at Pre-primary, Primary, Middle and Secondary stages under two levels - Junior school (Class 1 - 5) and Senior School (Class 6 and above) .

The curriculum followed is one designed by the Inter State Board of Education. In addition to the standard areas of studies such as- a choice of 3 languages (English, Kannada, Sanskrit, and Hindi), detailed study of sciences (Physics, Chemistry and Biology) and Social Science (History, Civics and Geography), an emphasis is also laid on Mathematics, Computers, Spoken English, Creative Writing, Dramatics, Fine Arts, Yoga, Meditation, Sports, Games and physical education as well. Special attention is given on practical aspects of learning. All these Programs are held as a part of School life to provide a unique mix for a proportionate and healthy growth of the pupil's personality.
Co-Curriculum
'Nine-tenth of education is encouragement'.
ON-CAMPUS ACTIVITES
Mask Making, Kite Making, Face Painting, Greeting Card- Making, English recitation, Storytelling, Debate, Just- a – minute and a variety of innovative games. To hone character building and teamwork, the children engage in activities such as Dancing, Singing, Street play, Dumb Charades, Quiz, Mock Press and sports like Athletics, Foot Ball, Volley Ball, Basket Ball, and Table Tennis among a few.

BEYOND THE CAMPUS ACTIVITIES

The knowledge gained within the school campus is complimented by our beyond -the-campus activities, where in our pupils come together and participate in large numbers. They are:-

Eco awareness programs


Field Trips (½ day or a day)


Interschool contests,


Educational Tours (Over-night programs),


News Papers in Education programs,


NGO activities on counseling, guidance, community services, etc.
Tests and Exams
'By far, the best proof is experience '
Tests and Exams are conducted with the intention to understand the academic growth of the child, so as to enable parents and teachers help him/her better. There are two unit tests, two examinations and a project assessment during the academic year. Final assessment for promotion is based on the performance throughout the year. The assessment is cumulative and comprehensive.